We're an affiliate
As an affiliate, we earn from qualifying purchases. We get commissions for purchases made through links in this post.
Aqua's Monitor
Aqua's Mouse
Aqua's Keyboard
Aqua's Mousepad
Aqua's Headset
Alienware 25 FHD 1080p Gaming Monitor - AW2518H NVIDIA G-Sync 240Hz Refresh 1ms response time
Logitech G Pro Wireless Gaming Mouse with Esports Grade Performance, Black
SteelSeries Apex Pro HyperMagnetic Gaming Keyboard — World's Fastest Keyboard — Adjustable...
havit Big Gaming Mouse Pad 39.37 X16.93 X 0.16 Inch Large Mouse Pads Extended Desktop Keyboard Mat,...
Logitech 981-000536 G430 7.1 Gaming Headset with Mic
Aqua's Monitor
Alienware 25 FHD 1080p Gaming Monitor - AW2518H NVIDIA G-Sync 240Hz Refresh 1ms response time
Aqua's Mouse
Logitech G Pro Wireless Gaming Mouse with Esports Grade Performance, Black
Aqua's Keyboard
SteelSeries Apex Pro HyperMagnetic Gaming Keyboard — World's Fastest Keyboard — Adjustable...
Aqua's Mousepad
havit Big Gaming Mouse Pad 39.37 X16.93 X 0.16 Inch Large Mouse Pads Extended Desktop Keyboard Mat,...
Aqua's Headset
Logitech 981-000536 G430 7.1 Gaming Headset with Mic
Fortnite Aqua otherwise known as David Wang is an 19 year old Fortnite sensation that took the community by surprise. He was born around July 20th 2002 (within a few days) in Klagenfurt Austria.  
At the age of 1 his parents got a divorce and his father left him and his sister.  Aqua was extremely competitive and played sports at a young age with all his friends, his first word was even ball.
When he was 13 his family decided that home schooling would be best for Aqua.  At this time it seemed like he was staying in a lot and playing on the computer.  His mother was worried that he didn't have as many friends but later she saw he still has plenty, they are just online.
He is known for his legendary victory in the duo championship that took place at New York's largest sporting event in Arthus Ashe tennis stadium: The Fortnite World Cup (2019). 
Fortnite Aqua is a content creator as well; sitting at 319k followers on Twitter, 260k subscribers on YouTube and a little over 200k followers on Twitch.
"I feel there is no limit in Fortnite you can always improve" – Aqua
Fortnite Aqua was born and raised in Austria and quickly found his love for Fortnite and began his climb to the top. Just like most Fortnite stars, it took a lot of dedication and performance in order to actually stand out on top. Fortnite Aqua had no fame or popularity until his skills came into play at the World Cup Championship. 
Winning that in front of New York's crowd was a big moment that would change Fortnite Aqua's career indefinitely. 
He will always be known as a champion at one of the biggest stages of Esports history especially for the age he is at and how much he has already accomplished.  Oh and the 3 million dollar prize wasn't too bad either.
Add a header to begin generating the table of contents
Fortnite Aqua's Gaming Career
Nyhrox was looking for a partner and decided to try to play with Aqua.  It was tough at first since german is Aqua's first language but soon after he started speaking some english while playing.  
They ended up trying out together and played a tournament and got 10th place, which is great for the limited amount of time they played together.
Fortnite Aqua plays for COOLER Esports which was a small organization at the time that he signed which was June 2019. This brought about a lot of conversations in the community because Fortnite Aqua is known to be one THE best EU players and he chose to sign with a smaller team. 
The reason why he signed with COOLER was that his duo partner Nyhrox was also signed with them but a lot of fans think he should have gone for a tier 1 team with the skills he has to offer.
Fortnite Aqua began gaining popularity after his killer performance in the Fortnite World Cup of 2019 when he took home the duo championship award with Nyhrox. Fortnite Aqua at age 17 and Nyhrox at age 16 earned 3 million dollars in prize money. 
The two were not even heard of by many of the other competitors and certainly were the underdogs in the eyes of the crowd. 
Some even said they were good but they did not think that they were THAT good proving that popularity does not matter when it comes to skill. 
Fortnite Aqua could not believe that he actually won over the fan favorites that were almost guaranteed to win the eyes of the crowd.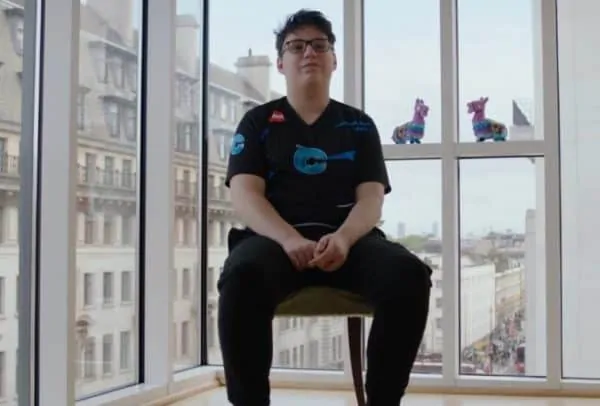 The team qualified for the world cup and don't forget they just started playing together one month before the tournament.  They qualified in the second week and it all came down to the last game which they popped off in and ended up getting the victory royale.
At the world cup the team met again as they were separated by serious miles this is only the second time they got to meet.  Before this they ended up going to a boot camp and ended up hanging out together the whole time.  
At the world cup which was on July 27th, 2019 they ended up doing a few other cool things like going to the Brooklyn bridge and Empire State building.
The day of the game Nyhrox was very nervous but had his dad to help keep him calm as he was also a trainer for high level athletes.  Aqua was calm and couldn't wait to get started, he was very focused.  
They were chosen for an interview at the start and Aqua couldn't hear the question because the fans were so loud so he answered with a "We are going to win".
The Games
Game 1 started off great they got everything they needed but couldn't find anyone and storm surge ended up getting them eliminated.  If you are new to the tournaments basically if you don't do any damage to other players you end up getting damage done to you.  
This is so the end of the game isn't over crowded and helps push people to get into fights early on.
Next game they had good position but ended up getting taken out.  Game 3 Aqua got taken out early and Nyhrox wasn't far behind.  At this time Nyhrox suggested to switch up the strategy and Aqua said he believes in the plan and wants to stick with it.  
They looked at each other and said let's just win this.  They got some tags early on to avoid storm surge then they got high ground and worked so fluently together that soon enough the words victory royale appeared on the screen.
They were excited this moved them up to top 10 (9th to be exact).  They then said let's go back to back.  They were really confident and Nyhrox did his trophy emote in game after eliminating someone in mid game showing they were going for the title.    
Again got high ground and worked great together and again received the message victory royale.  They just went back to back in the world cup!
They were now 3 points off of Saf & Zayt who had 43 points.  They know they have a chance to win it and are ready for the final game.  In game 6 they eliminated Mitr0 early on, got high ground and started doing their thing.  
Nyhrox got a shadow bomb and tried to rotate but that didn't work out and he was eliminated.  Aqua then gets a few more shots in but also goes down.  
Then they just sat there to wait for the tally and when it came in it showed they were 1st place and just won the world cup.  They then walked right to the winners circle so Nyhrox could do his emote in real life holding the championship cup.
After the win they were really excited but Aqua had to mentally prepare for the next phase because he also qualified for solo's the next day and he wanted to go to sleep.  
Unfortunately for Aqua the solo even didn't go well for him and he received 94th place out of 100.
The day after the big win Aqua approached Nyhrox and informed him he is going to start playing with another duo partner as he has been playing with one of his friends for awhile and they both speak german.  
Nyhrox understood but personally I think this was terrible timing.  You just proved to be the best duo in the world why find another team mate but that's just my personal opinion.
As a pro player, Fortnite Aqua has earned a lot of spots to participate in various world-wide events and has earned quite a bit of money for his age. 
He has participated in a variety of tournaments (specific names can be viewed down below) but out of those twenty-one specific tournaments stand out in terms of his placements. 
Out of those twenty-one tournaments, he has placed first in 11 tournaments, once a runner-up, and 3rd/semis for 9 tournaments racking in over a million dollars. In 2019 alone he earned $1,789,170 and even now in 2020 he's already earned $70,000.
Currently, Fortnite Aqua is ranked #34 in the highest overall earnings and #1 in highest earnings for players from Austria.
In Fortnite Aqua is a next level god and has done very well for himself.  He is not stopping though and will continue to dominate.  He is one to watch for sure as we will here and keep you up to date if anything new happens.
More Gamers to check out!