We're an affiliate
As an affiliate, we earn from qualifying purchases. We get commissions for purchases made through links in this post.
Jarvis's Monitor
Jarvis's Headset
Jarvis's Controller
Jarvis's Microphone
Jarvis's Microphone Arm
Jarvis's Webcam
Alienware 25 FHD 1080p Gaming Monitor - AW2518H NVIDIA G-Sync 240Hz Refresh 1ms response time
SteelSeries Arctis 5 RGB Illuminated Gaming Headset - Black (Discontinued by Manufacturer)
Xbox Elite Wireless Controller
Audio-Technica AT2020USB+ Cardioid Condenser USB Microphone, With Built-In Headphone Jack & Volume...
Logitech Brio 4K Webcam, Ultra 4K HD Video Calling, Noise-Canceling mic, HD Auto Light Correction,...
Jarvis's Monitor
Alienware 25 FHD 1080p Gaming Monitor - AW2518H NVIDIA G-Sync 240Hz Refresh 1ms response time
Jarvis's Headset
SteelSeries Arctis 5 RGB Illuminated Gaming Headset - Black (Discontinued by Manufacturer)
Jarvis's Controller
Xbox Elite Wireless Controller
Jarvis's Microphone
Audio-Technica AT2020USB+ Cardioid Condenser USB Microphone, With Built-In Headphone Jack & Volume...
Jarvis's Microphone Arm
Jarvis's Webcam
Logitech Brio 4K Webcam, Ultra 4K HD Video Calling, Noise-Canceling mic, HD Auto Light Correction,...
Jarvis Khattri, better known as Faze Jarvis, is a very young English content creator from Surrey and is most famous for playing Fortnite. On November 11, 2001, he was born in London, England, alongside his two brothers named Frazier and Chandler. 
Faze Jarvis loved playing games even when he was young and rose to fame and gossips when he was challenged by the ghost Aydan in an online Battle Royale game called Fortnite.
Over the years, he has tried many new platforms, such as making YouTube videos and streaming on Twitch but is mostly known for his challenges and real-life content that he uploads on his YouTube channel. 
Before starting his own YouTube channel, he named the gaming community thanks to his brother Frazier Kaye, also known as FaZe Kay, who featured him in his YouTube videos. 
To further extend his name in the community, he joined the FaZe Clan in April 2019 at a very young age of 17 years. Through the years, there have been many ups and downs in his career.
Jarvis started YouTube at a very young age of only 14 years but not very consistent at the start. He uploaded his first video on June 29, 2014, playing Call of Duty: Black Ops II, although he did not show his face on camera until July 1, 2016, when he uploaded a video titled 'WELCOME TO MY CHANNEL'. 
But he only took YouTube seriously in mid-2018 and started uploading Fortnite content, which was a widely popular game at that time, then in late 2019, he moved on to making vlogs.
Add a header to begin generating the table of contents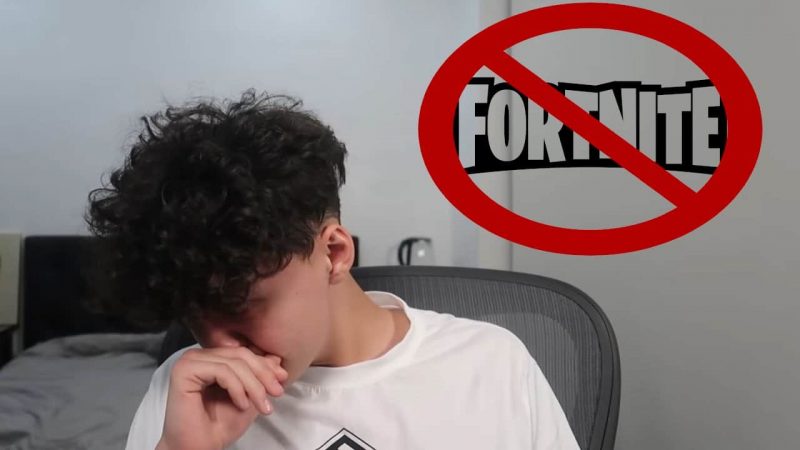 Aimbot Ends the Fortnite Career of Jarvis
In late-2019, the news that made headlines was when Faze Jarvis was banned from playing Fortnite. The reason behind his ban was that he uploaded a video on his channel in which he was showing himself aimboting in the game Fortnite. 
The developer team of the renowned game known as Epic Games immediately noticed his activity, and as aim botting is illegal, they took action and banned Jarvis from Fortnite permanently. 
Then, on November 3, 2019, Jarvis came out with an apology video on his YouTube channel in which he stated that Fortnite had made a huge impact in his life. And that he did not even know the consequences of what was going to happen as a result of showing himself cheating.
But as it turns out, being truly sorry was not enough for Epic Games. An official statement released by Epic Games stated that they have a zero-tolerance policy for cheating software usage as when people use aimbots or other cheat technologies to gain an unfair advantage, they ruin games for people who are playing fairly. 
Although many people did stand with Jarvis, such as Tyler "Ninja" Blevins stated that he was way too young to be permanently banned and deserved a second chance.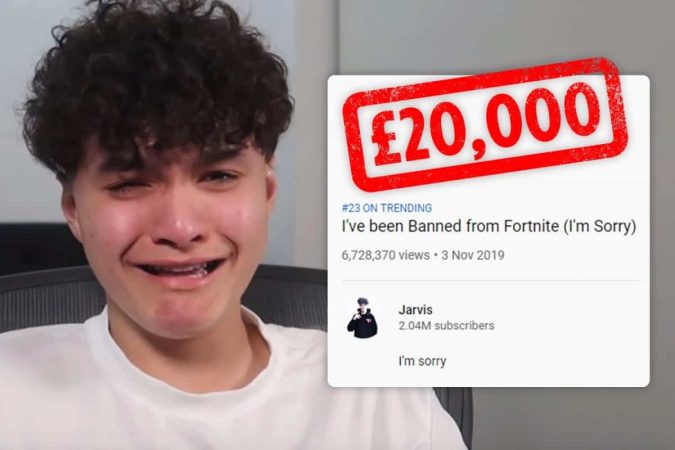 Apology Video Earned Jarvis Big Bucks Regardless of the Motive
After getting banned from Fortnite for life, Jarvis made an apology video on YouTube titled "I have been officially banned from Fortnite (I'm Sorry)." 
The apology video was received with mixed reactions from the community, with some genuinely feeling sorry for him, while others considered it a marketing ploy.
Jarvis's main form of criticism received over the apology video was that the video was monetized, which means he made money over the video. 
Some analysts placing the figure somewhere between $25,000 and $50,000, which made it less of an admission of guilt while more of a marketing campaign which seems to have worked considering the amount of money he made over a single video.
Jarvis's apology was not received very well by the community as the video has over 19 million views with about 250k dislikes, which proves the community's stance on the video. 
Like many other YouTubers Jarvis did not appear to be sorry in his apology and instead made excuses to justify his actions. His tears only seemed to add fuel to the fire as it seemed like he was using his status to pressure Epic into removing his ban.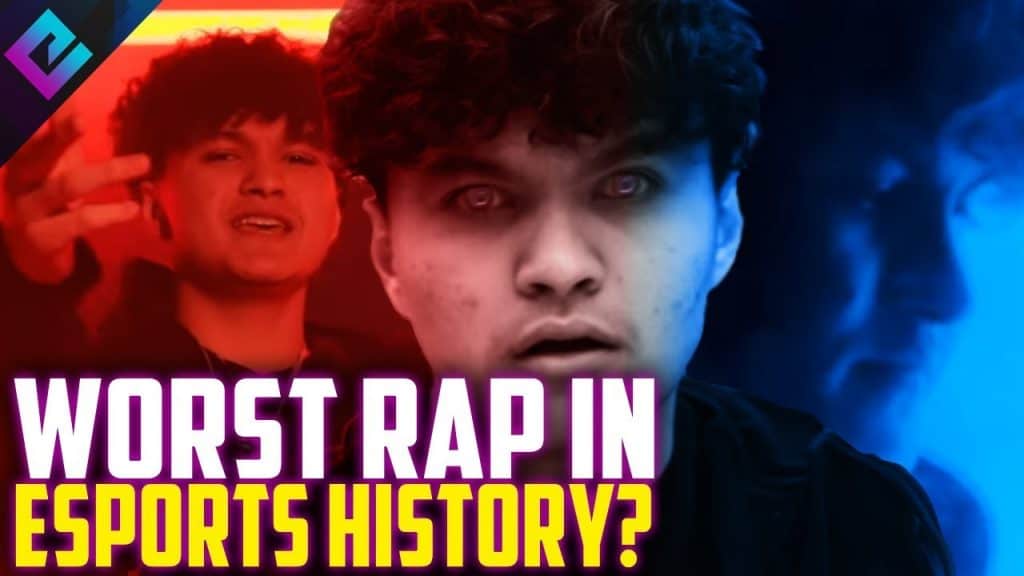 Jarvis's Response over Ban with an Awful Rap Song
A little over two months after releasing his apology video, Jarvis mocked Epic by releasing a rap song on YouTube. The song was titled "Banned 4 Life," which again received mixed reactions from the gaming community, some going as far as naming it the worst rap song in History. 
The rap song not only received criticism from the Fortnite community, but it also received its fair share of criticism from the rapper community.
In the music video, Jarvis mostly talks about his rise to fame and his brothers and the FaZe Clan. He also spoke about the controversies and the Fortnite ban that followed after his actions. 
The music video is generally themed after Fortnite. Jarvis can be seen as running around shooting several characters dressed as Fortnite players and is eventually taken down himself.
Despite the hate that Jarvis received over the song, the video still received over 21 million views and 388k likes, which is a decent number considering he had a gaming channel and uploaded gameplays at the time. 
Still, he continues to create YouTube content for his fans, and the music video made it clear he still does not support Epic's decision to ban him.
Jarvis Had a Long List of Bans Even Before this Incident
Although the Faze Jarvis Fortnite ban sent ripples in the gaming community, it was not his first ban. The teenage gamer was suspended from Twitch on June 28, 2019, just months before being banned off from Fortnite. 
The reason behind his ban on Twitch was due to copyright violations, Twitch issued the ban alongside a Digital Millennium Copyright Act (DMCA) takedown. 
Jarvis's fault was playing copyrighted music while streaming on the platform. Despite the fact that he was given a 24-hour suspension, it took a while for Jarvis to get his account back to the extent that his brother had to make a tweet on Twitter, stating that his brother had been banned from Twitch.
In the world of professional esports, getting banned is not an uncommon occurrence. Before Jarvis, one other member of the FaZe Clan, had also received a ban from Twitch. A year earlier, before the Jarvis ban, H1ghSky1, another member of FaZe Clan, had also got his account suspended. 
Because of an age-related controversy, later revealed that he had been forced to lie about his age by FaZe Clan to participate in a tournament. The lawsuit between Turner "Tfue" Tenney and FaZe Clan revealed a lot of mud on the hands of FaZe Clan and put light on their wrongdoings over the years.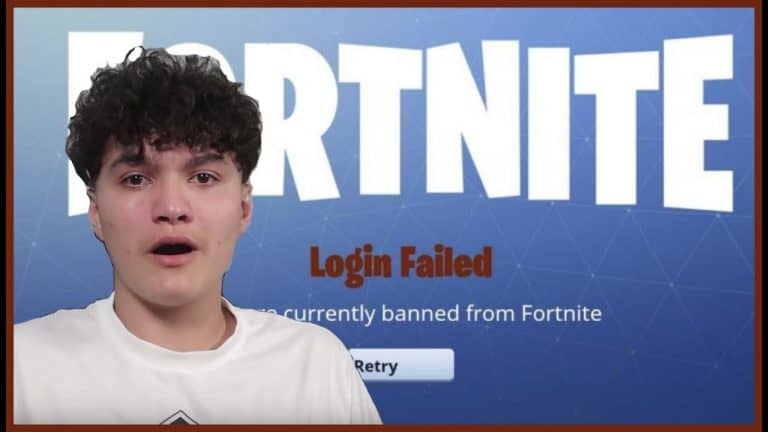 FaZe Jarvis's Prank Fortnite Stream was NOT a Great Idea
FaZe Jarvis announced on September 11th, 2020 that he would be returning to stream Fortnite even though he was banned, which ended in his second ban, but it was revealed as an elaborate prank to gain a bit of internet clout. 
Even after making an apology video and his fans begging Epic Games the unban him, he took matters into his own hands and made a second account to stream Fortnite. But the plan did not go as planned as Epic Games banned Jarvis just 15 minutes after he started streaming.
At least is what seems, but that's where the plot twist was that he was never streaming, and it was just an elaborate prank. As it turns out, someone else was playing the game off-camera, and he just went through with the motion of playing the game. 
According to Jarvis, the prank's intention was not to get banned but to trick the internet into believing that he was playing again. But the prank did not go as planned as it had severe consequences.
Epic Games does not like to be played with, so Fortnite did end up banning the account Jarvis claimed to be using, but it wasn't just Jarvis who was banned. 
Instead, Epic Games IP banned the entire Clout House, where there were numerous FaZe members. As Jarvis' video showed multiple members of FaZe Clan enjoying the show, they were also banned by Epic Games on account of encouraging Jarvis to clout. Epic Games made sure everyone learned their lesson.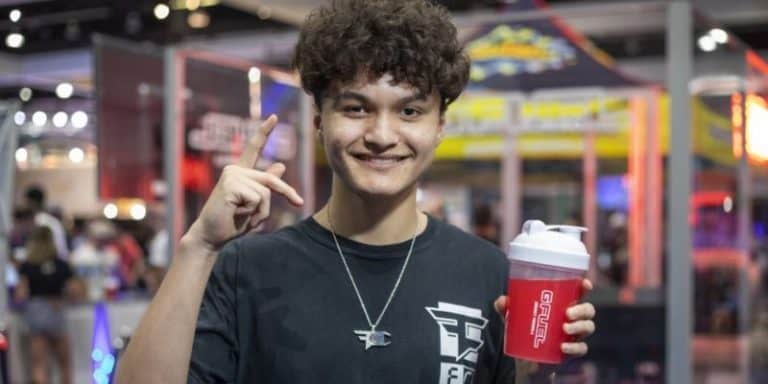 Jarvis is not Over with Fortnite Yet
Even though he was handed a permanent ban from the game, according to Jarvis, he is still not done with Fortnite. In a video released after the ban, he stated that he loved making content and will continue to keep going. 
And as FaZe Clan owner Ricky Banks said, Jarvis might not play Fortnite, but his chances of creating content around Fortnite are not zero.
The only problem with making content around Fortnite is Epic Games because, as the ban contents were not specified, it is to be seen if the ban only applies to playing the game or extending to all aspects of the game. 
So, it remains to be seen if Epic can stop Jarvis from releasing content centered on their product.
Yes, Faze Jarvis is a British professional gamer and content creator. He earned his reputation and made a name for himself through his excellent skills at Fortnite.
Faze Jarvis was born in England, United Kingdom, and belongs to the White ethnicity. He grew up in his hometown alongside his three brothers, with his older brother Faze being among the directors at the famous gaming organization Faze Clan.
What is the Real Name of Faze Jarvis?
Faze Jarvis goes by the real name of Jarvis Khattri.
What is Faze Jarvis Sensitivity?
According to the latest updates, the editing sensitivity of Faze Jarvis is 1.588, and when it comes to his dead zones, it is 0.08/0.08.
What is Faze Jarvis Twitch name?
The official Twitch channel of Faze Jarvis goes by the title liljarvis.
Where does Faze Jarvis Stream?
Faze Jarvis has both a Twitch channel and an official YouTube channel with a healthy fan base. Jarvis streams his gameplay across both platforms regularly. He also uploads his gameplay moments and other clips over on his YouTube channel.
What is Faze Jarvis net worth?
According to an update in July 2020, Faze Jarvis exceeded an estimation of over $2.8 million of his total net worth. Considering his fan base across his social media platforms increased over time, he might as well be in the $3 million net worth club.
Faze Jarvis Banned 4 Life Song?
As a response to him receiving a permanent ban, Faze Jarvis made multiple posts across social media and an official apology video on YouTube to admit to his wrongdoings wholeheartedly. On a side note, Jarvis even releases his official song going by the title Banned 4 Life, to respond to his lifelong ban. The song accumulated millions of views on the platform, but at the same time, it ended up receiving mixed reviews from the Fortnite community.
Did Faze Jarvis Leave Faze?
After getting involved in the cheating scandal, Faze Jarvis left his mansion in Los Angeles and returned to the UK. The ban resulted in him getting permanently axed from Fortnite and suspended from the Faze organization.
More Gamers to check out!