We're an affiliate
As an affiliate, we earn from qualifying purchases. We get commissions for purchases made through links in this post.
Ninja's Monitor
Ninja's Mouse
Ninja's Keyboard
NInja's Mousepad
Ninja's Headset
Alienware 25 FHD 1080p Gaming Monitor - AW2518H NVIDIA G-Sync 240Hz Refresh 1ms response time
Ducky One 2 Mini RGB (Cherry MX Brown) Keyboard
HyperX FURY S - Speed Edition Pro Gaming Mouse Pad - Small - HX-MPFS-S-SM
beyerdynamic DT 990 Edition 32 Ohm Over-Ear-Stereo Headphones. Open design, wired, high-end, for...
Ninja's Monitor
Alienware 25 FHD 1080p Gaming Monitor - AW2518H NVIDIA G-Sync 240Hz Refresh 1ms response time
Ninja's Mouse
Ninja's Keyboard
Ducky One 2 Mini RGB (Cherry MX Brown) Keyboard
NInja's Mousepad
HyperX FURY S - Speed Edition Pro Gaming Mouse Pad - Small - HX-MPFS-S-SM
Ninja's Headset
beyerdynamic DT 990 Edition 32 Ohm Over-Ear-Stereo Headphones. Open design, wired, high-end, for...
Ninja's Microphone Arm
Ninja's Webcam
Logitech Brio 4K Webcam, Ultra 4K HD Video Calling, Noise-Canceling mic, HD Auto Light Correction,...
Ninja's Microphone Arm
Ninja's Webcam
Logitech Brio 4K Webcam, Ultra 4K HD Video Calling, Noise-Canceling mic, HD Auto Light Correction,...
Tyler Blevins (Ninja) is a well-known YouTube gamer and Twitch/Mixer star. It wasn't always that way as Ninja's eye injury almost ended his gaming stardom before it propelled to new heights, more on that later.  
With more than 23 million subscribers on YouTube, 12 million followers on Twitch before switching to Mixer, 4 million followers on Mixer, 15 million on Instagram, 4 million on Twitter and 3 million on TikTok he is by far one of the biggest names in the social gaming media today. 
An internet sensation, Tyler has truly turned his gaming passion into a highly-paid career. He invests a lot of hard work, determination, grit, and talent in order to succeed. 
His impressive income may seem shocking considering it is earned just by playing video games, but a lot has been put in by him to become the most popular streamer on Amazon-owned gaming platform Twitch. 
Having said that, it is surprising to know that Tyler does not encourage professional gaming as a viable career pathway for everyone!
Ninja's story from a 'leisure' player of videos games to a professional gamer is one of high interest, respect and admiration. Not many can claim to turn their hobby into a high paying profession. Tyler first played competitively in 2009 by enrolling a Halo 3 event in Orlando. 
Almost instantly he understood that the road to victory wouldn't be an easy one. He had to play better than hundreds and thousands of gamers around the world to earn money from tournaments. 
Though the duty was an uphill one, his love for challenges and passion to be the best in whatever he did made him arise upwards. 
By then, he had played for multiple key e-sports teams including Cloud9, Renegades and Team Liquid. In 2011, Tyler became a streamer for Justin.tv but then it turned into Twitch.tv in 2019 he would then move again to Microsoft's platform Mixer. 
By 2012, his team won the Halo 4 2012 MGL Fall Championships, with Blevins achieving the highest score in the final game.
In 2017, Ninja joined Luminosity Gaming as a Halo player. Later, he moved to Battlegrounds, where he won the PUBG Gamescom Invitational in the 3rd Person Squads division. 
By the time, he began streaming Fortnite constantly; his viewership grew astronomically, corresponding directly with the game's popularity. When in September 2017, he had around 500,000 followers, by March 2018, the number expanded by 250 percent. 
The Twitch.tv record for a single individual stream was set by him while playing Fortnite after he hosted a game with Drake, Travis Scott, and Juju Smith-Schuster. In the following month, he broke his own viewing record during his event Ninja Vegas 2018 by gathering an audience of 667,000 live viewers.
Ninja is no longer with Luminosity and has recently picked up a lot of new sponsors which include Adidas, Red Bull, Uber Eats and NZXT.  He also has his own merch line that you can check out at TeamNinja.com.  
Add a header to begin generating the table of contents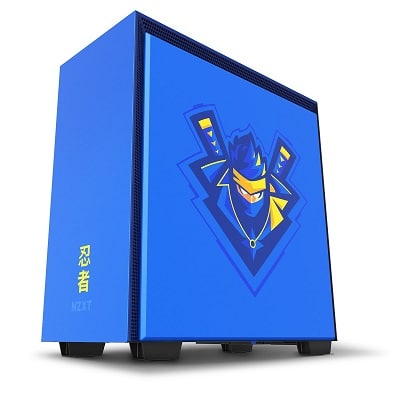 A strong setup is useless without a monitor that can contain its full potential, and there are hardly any that rival the Alienware 25 Gaming Monitor – AW 2518H. 
Games like Fortnite demand a keen eye, and players like Ninja prefer an optimal gaming environment for ideal performance. So, this monitor provides a stretched resolution with NVIDIA G-syncs feature that prevents stuttering and reduces input lag, making it an absolute beast of a partner for players like Ninja.
Ninja earned fame from playing Fortnite and what helps him in making exceptional plays is the FinalMouse Ultralight Phantom gaming mouse. Similar to any other FinalMouse product, Ultralight Phantom also comes with the PMW3360 optical sensor model and weighs only 67 grams. 
The lighter the mouse, the lesser the inertia, which results in smooth dragging and maximum output. It is one of the main reasons why players like Ninja prefer the Ultralight Phantom gaming mouse.
Ninja's keyboard is the keyboard that made him famous in the e-gaming world. A high-end keyboard of the Corsair brand, the K70 is a mechanical-type keyboard and has anti-ghosting technology. This is the keyboard that we usually find at professionals. 
Corsair K70 also has the pleasure of having a comfortable rubber wrist rest that enables you to spend long hours playing without hurting the wrists. In terms of material quality, the chassis is Matt Aluminium, which is ideal for durability and long-term resistance. The keys are fast reactive and don't fade easily.
Ninja's Headphones – Beyerdynamic DT 990 Edition 32 Ohm Over-Ear-Stereo Headphones [Amazon]
When you compare it with the high-end headphones, it might not prove to be the best, but a popular streamer like Ninja uses the Beyerdynamic DT 990 Edition 32 Ohm Headphones. 
It has an open and comforting design, mainly preferred for smartphone, tablet devices, and commercial usage. But at the same time, the high-end sound quality makes it an excellent option to consider for
gaming needs as well.
Please see the tables above for all of his Equipment.
Richard Tyler Blevins was born on June 5, 1991, in Lake Villa, Illinois, USA, to Chuck Blevins and he has two elder brothers, John, and Chris Blevins. It was his father, Chuck Blevins who introduced his sons to video games. 
As a great lover of the e-sport, he would buy the latest games released. However, young Tyler describes that while he and his brothers would go off to sleep by 8 at night, his father would play the game until the small hours of the morning. 
The family owned all the modern gaming consoles including Microsoft Xbox and Sony PlayStation games. When Halo, a multi-player, futuristic war game was launched on Xbox, young Tyler asked his siblings to play the game. 
Cautioning him as 'too young for the game', his brothers disallowed him. After much pestering, when Tyler got his hands on the remote, he practically 'destroyed' them. It was then that his talent for gaming became obvious.
Blevins made a deal with his father according to which only if he did great at school and maintained his job at the Noodles & Company would he be permitted to play as many hours as he wanted. 
Realizing there was no way out, he worked hard and was fairly rewarded. 
Tyler would stay beyond the wee hours of the morning and just keep becoming better at it. What worked for him was his imperative nature to be the best at his job. His longing for emerging out as the No. 1 made him reach the top spot. 
Recognizing his potential for the game, he soon spoke with his family who was more than supportive to encourage him turn his passion into his profession.
Ninja's Eye Injury threatens his livelyhood
Just when Tyler Blevins seemed to be at the zenith of his career, a major downfall turned out. He started to get a strong headache. The doctors said that they have to do an eye surgery and there might be a chance for him to lose his eyesight. 
This was the worst time in his career because if he can't see he won't be able to play and stream. With Ninja's eye injury he had no choice, Tyler had the eye surgery that fixed his retinal defects and he did well.
To the great joy of his fans, he tweeted: "Eye update. I have a retinal detachment in my right eye. I could have gone blind in it at any moment since it happened."
The problem was that he had to wait for a couple of months so he can start playing and streaming again. He went from having 4500 viewers on twitch.tv to a meager 400 viewers. 
But his inherent ambition to excel helped him make a strong comeback. Blevins ignored all his critics by nailing it yet again. He has been playing great tournaments ever since and has become the major 'hero of e-sports'.
Is Ninja blind? No, after the eye surgery he had to be very careful and was only able to look down in that eye for weeks and was unable to stream. It took some time but Ninja's eye has healed and he is now back at full strength.
And yes he has a love life. Blevins married colleague gamer, Jessica Goch, in 2017. The two of them have a long lasting relationship. Since his early years in gaming. 
She is now his full time manager and also streams.  Jess has been a key role in Ninja's success and landing the top tier sponsors he has been dreaming about since he was just starting out.
Is Ninja blind in one eye?  He is not blind in one eye though he continues to have issues with his right eye.  He has had numerous cataract  surgeries since this his retinal detachment that happened when he use to stream Destiny.  
Ninja is very thank thankful that his other eye is in such good shape, he recently told us about this on a Instagram post.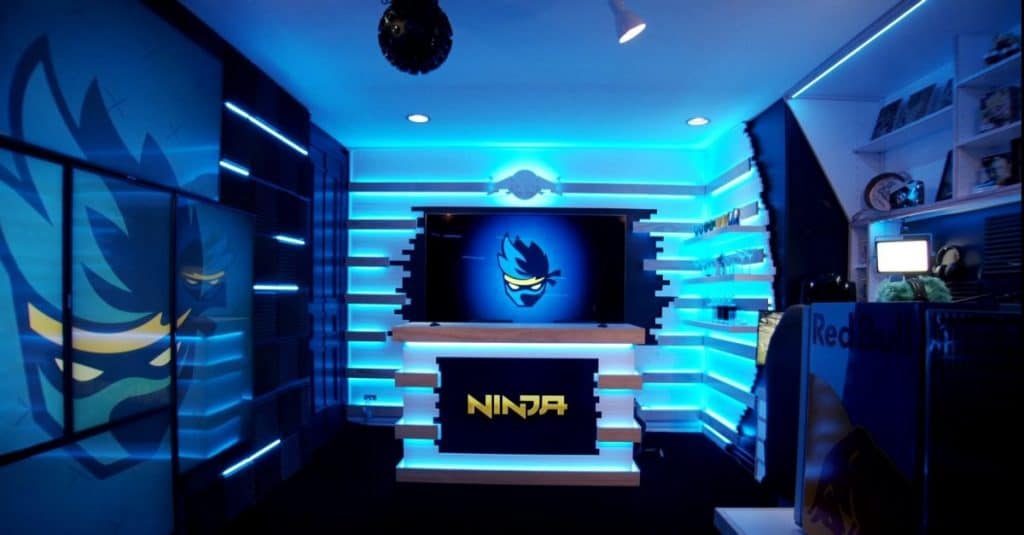 While most of Ninja's streams consist of him playing at his desk, the new Red Bull stream room includes the full basement room. This is all setup where Ninja lives near Chicago, Illinois.  
The stream room was a custom acoustic approach and has been fully equipped with controllable, color changing LED lighting. On the wall, there are eight different monitors for Ninja to playback video from his dedicated video server or just host graphics of his avatar. 
Another part of the room has a dedicated analyst desk in place. This place is reserved for Ninja's hosts' friends or for when he steps away from the action for a bit. Four separate Blackmagic URSA Mini Pro 4K 60 fps broadcast cameras in the room are able to stream the action from each angle while a mixture of Electrovoice and Shure broadcast microphones capture audio.
Recently Ninja said goodbye to Twitch with almost 15 Million followers and moved over to Mixer.  Ninja in his first week has already gained 1.5 million followers on Mixer and is averaging between 22k-50k viewers per stream.  
Over time this number has dropped and his average viewership was around 8k when playing Fortnite. 
Though most people think Mixer is new the Microsoft owned streaming platform mainly used for Xbox is over 2 years old and has some nice features like 0 stream delay. Will Ninja be able to continue with these numbers on Mixer?  
Well recently Mixer manager has come under fire for saying some racist slurs to employees.  When Microsoft got wind of this they decided to follow through with a backup plan which is close Mixer down and move the users over to Facebook Gaming.  
No employees knew about this till it was announced on twitter.
Why Ninja stopped streaming
Ninja has also left Mixer since Mixer announced it would be closing down.  As the time of this update he has not decided where to join but has said a hard NO to Facebook Gaming.  
This left Mixer in breach of contract and they were forced to pay Ninja his full contract which is reportedly worth 30 million dollars, yes you read that right.  Due to the contract ending early if the 30 million dollars is correct that means he made $92,000+ a day for just shy of a year, where do I sign up for that!  
That's why Ninja has one of the best talent agencies in Reloaded.
Will Ninja come back to Twitch?
It appears it will either be YouTube or Twitch, a lot of people think he will go back to Twitch but I wouldn't count out YouTube as it has a larger audience and Ninja is always trying to reach out to more people.  
Recently LazarBeam had a Fortnite event stream on YouTube and it reached 900,000 viewers and I'm sure Ninja is aware of this. 
The reason he hasn't made a choice yet is because he is most likely waiting for a contract offer from both streaming services though I'm sure he has an idea in his head where he wants to stream.  I have to say I have really missed his streams and can't wait for him to come back.
Ninja did have a YouTube stream out of no where and everyone was so excited.  We thought this would mean he has chosen to move to YouTube but since that stream no others have happened.  
This has to be tough for Ninja since he streams almost every day.  He did hit 167,000 people watching at one point which is amazing for his first stream and only 1 day notice.  
People feel he has not signed but wanted to show he could still bring people in to watch and then he would have a better chance of a deal.
UPDATE! Ninja has came back to Twitch!  He started streaming again on his old platform September 10th, 2020.  Unlike other streamers he didn't have a huge build up and reveal.  He basically just went live!  
He has been streaming there ever since and holding very good numbers streaming Valorant, Fall Guys and Among US.  He then decided to try Fortnite after taking a very long break and instantly feel back in love with the game.  
He now streams it a lot and is really enjoying all the recent changes they have made to the game.  Ninja really was totally surprised he enjoyed the game so much and said this is exactly what he needed right now.
When Fortnite was hot there was one squad everyone couldn't wait to tune in to and watch the funny antics and amazing game play.  This squad consisted of:
To watch the skill of them getting victory after victory royale was so much fun.  They kept the conversation very friendly and everyone could relate.  
You had Dr. Lupo who at times would make toxic comments to get the day going.  On the other hand you may have Timthetatman dying to fall damage, this was before Tim got really good at the game.  You also had CourageJD bringing a different style of humor or SypherPK bring his tactical approach. 
Every day felt like a special event and I know I made sure to tune in.  Would Dr. Lupo be impulsing Ninja' to his death down a mountain?  Would Tim get taken down by gravity.  
You also know CourageJD will be plugging himself on everyone's streams.  Yes, we will be hearing about Twitch Prime a lot today but to watch the collaboration this team puts together it was well worth it. 
Now a days we all look back and wish we could have another day like that and at times we do when a special event comes along it will pry people away from their current game in hopes to bring back the glory days but it never does last to long accept for Sypher and Ninja who still play Fortnite often.
Ninja and professional player Reverse2k teamed up to try and qualify for the 2019 Fortnite World Cup.  They ultimately didn't qualify after really grinding and playing a lot.  We have more of the story on Reverse2k's profile if you want to read more about it.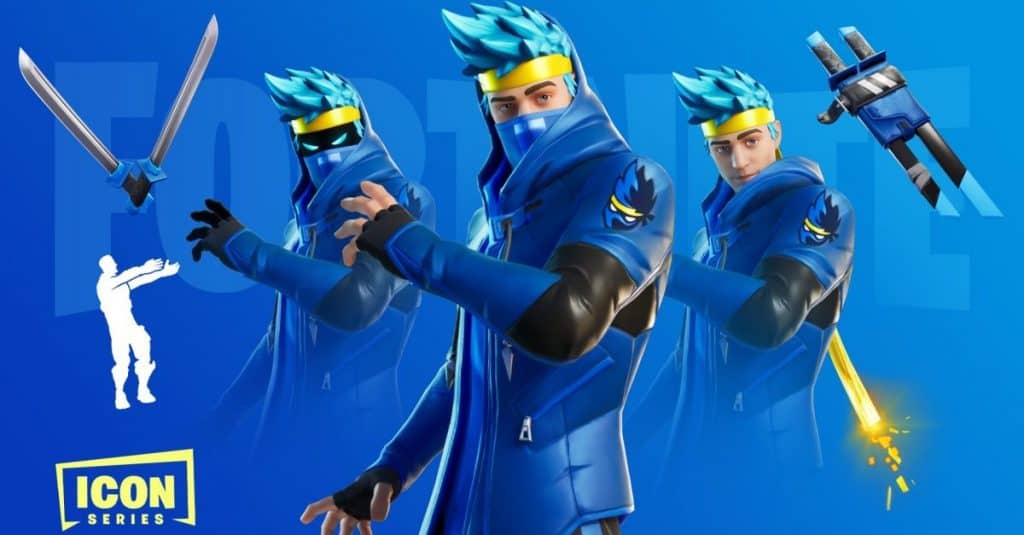 Will ninja skin come back?
Ninja was over the top when he was the first of the Icon series to be released.  The skin has four styles, dual katana pickax, back bling and a similar dance to the pon-pon.  
The skin is reactive and as you get eliminations in the game the signature yellow headband grows longer, which is a 200 IQ move from the designers.  This was first released in January 16th 2020 and has already came out again since.  
Most people ask will it come out again, I think it's a safe bet that it will probably hit the shop every 6 months or so as long as Ninja remains in the Fortnite community.
This is a popular question that always comes up.  How do you make money if you are playing a video game.  Most people just don't understand how they get paid.  
Well there are several ways you can get paid for streaming or making YouTube videos and I'll go over the most popular here. 
The first part is ads.  If you notice anytime you watch a video or a stream you get that pesky ad at the start that is usually related to what you will watch.  
Well advertiser need to get the word out and now a days TV commercials just don't do it as we are all online.  If you don't skip that ad or you click on it the content creator may even get more.
The next way is for people that are watching to give money to the streamer.  You may ask why would they do this, well it's because they have a connection and want to see the person be successful.  
There are a few ways to do this depending on the platform but the main three are subscribing, donation or stickers/bits. 
Subscribing is a monthly thing that usually cost around $5 a month and you will get access to special emotes in the chat and possibly other perks.  
When your subscription runs out it auto renews and at this time you can share that you are resubscribing and it keeps track of how long you have been subscribed.  This is a great way to show how long you have supported the streamer.  
Bits/stickers and donations is basically donating money to show your message on the screen or in chat.
When you get to Ninja's size there are a lot more options and that includes sponsorship.  Companies like your image and want you to be related to their product.  
Here you talk good about their product and advertise it and they pay you and/or build you a stream room like Red Bull did above.
When it comes to a streamers networth most people are just guessing on the internet.  The most popular guess on google is 20 million dollars which I completely disagree with.  
I am sure it is a lot more than that.  Not only did he just get about 30 million dollars from the mixer deal but he also has some very high end sponsors that others can only dream about.  
Ninja is also very careful with his money and doesn't spend it like I would.  He is very careful and a lot of the big things he has were provided from sponsors already so he didn't have to pay for them.  
He is very good with his money.  Yes him and his wife do get some nice Gucci clothing from time to time but if I had that kind of money I would be buying a lambo every week.
If I had to choose the networth of Ninja and estimate how much he has in the bank I think I would be very close at saying around 33 million dollars.  
Before he made $92k a day on Mixer his Twitch streams were bringing in around $20k a stream.
Some of those high end sponsors include Adidas, Red Bull, Uber Eats and NZXT.
Are Ninja and Tfue friends?
This is a question I hear a lot so I thought we would talk about Tfue and Ninja and their friendship.  They started having encounters very on in the H1Z1 days.  
Then when Fortnite came out they were known as the best of the best.  They both played very often and ran into each other in the game when this happened they took turns at beating each other.  
They stayed very friend on social media and never fired shots at each other.  Always saying they respected each other and avoided starting any drama.
Over time they started not seeing eye to eye.  Tfue started becoming more negative in the game as many do when they play so much.  He started hating on Fortnite more and more.  
Ninja felt it was his responsibility as the ambassador of the game to defend it and ask people to be more positive, this didn't go over well.
Later was the breaking point, Ninja's twitter got hacked and this was posted: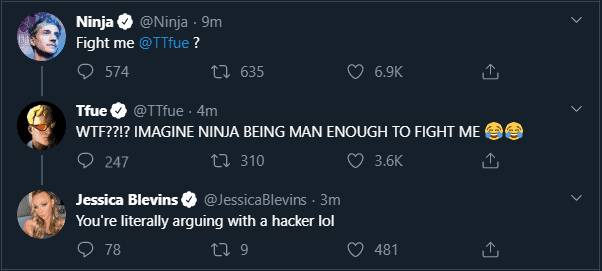 Ninja was very upset as he figured Tfue had to know his account was hacked and he was doing this to start a feud as the two have changed a lot since 2017.
In recent times Tfue will not let this go and conitnues to ask Ninja to fight him.  Lately Tfue has been at the gym a lot and has become ripped.  The messages keep coming in asking for a celebrity fight.  
Though most would enjoy seeing this happen the two will never fight as that is not something Ninja wants related to his image. 
With Ninja being 6'2 and Tfue being 6'1 it would be interesting if Ninja decided to hit the gym and train for this but don't plan on it happening.  
Ninja is trying to build his brand outside of gaming as he has done appearing on a bunch of TV shows like Ellen and the masked signer.  Soon he will even be in a new movie called "Free Guy".  You can see all his show appearances here.
On April 25th Tfue came at Ninja calling him something I don't want to say on this site but I will link to it here.  The once friendship that was more like mutual colleagues is no more at least on Tfue's side.  Knowing Ninja I'm sure he is not happy with what Tfue has said but would forgive him to get passed all this.
Just a recent update, Tfue did create an Instagram post that made the internet stir when he posted a picture of himself only in shorts and saying "Hey Sweetie" and tagging Ninja's wife Jessica.  
There was no response from Ninja or Jessica that I have seen yet so they just decided to ignore it as Tfue was just trying to start some drama to go viral.  
I believe that was the best choice and I think going after someone's wife is just wrong.
| CONTROLS | INPUTS |
| --- | --- |
| Jump | Space Bar |
| Sprint | Run by Default Option |
| Crouch | C |
| Use | E |
| Reload | R |
| Harvesting Tool | 1 |
| Weapon Slot 1 | 2 |
| Weapon Slot 2 | 3 |
| Weapon Slot 3 | 4 |
| Weapon Slot 4 | Z |
| Weapon Slot 5 | X |
| Building Slot 1 (Wall) | Thumb Mouse Button 4 |
| Building Slot 2 (Floor) | Q and Mouse Scroll Side Click Left |
| Building Slot 3 (Stairs) | Thumb Mouse Button 5 |
| Building Slot 4 (Roof) | Left Shift and Mouse Scroll Side Click Right |
| Trap | 5 |
| Building Edit | F |
| Repair/Upgrade | G |
| Inventory | Tab |
More Gamers to check out!