We're an affiliate
We hope you love the products we recommend! Just so you know, we may collect a share of sales or other compensation from the links on this page. Thank you if you use our links, we really appreciate it!
Khanada's Monitor
Khanada's Mouse
Khanada's Headset
Khanada's Keyboard
Khanada's Mouse Pad
BenQ ZOWIE XL2546 24.5 Inch 240Hz Gaming Monitor | 1080P 1ms | Dynamic Accuracy & Black eQualizer...
Logitech G Pro Wireless Gaming Mouse with Esports Grade Performance
Logitech G PRO X Gaming Headset (2nd Generation) with Blue Voice, DTS Headphone 7.1 and 50 mm PRO-G...
logitech Pro Mechanical Gaming Keyboard, 16.8 Million Colors RGB Backlit Keys, Ultra Portable...
Logitech G840 XL Cloth Gaming Mouse Pad
Khanada's Monitor
BenQ ZOWIE XL2546 24.5 Inch 240Hz Gaming Monitor | 1080P 1ms | Dynamic Accuracy & Black eQualizer...
Khanada's Mouse
Logitech G Pro Wireless Gaming Mouse with Esports Grade Performance
Khanada's Headset
Logitech G PRO X Gaming Headset (2nd Generation) with Blue Voice, DTS Headphone 7.1 and 50 mm PRO-G...
Khanada's Keyboard
logitech Pro Mechanical Gaming Keyboard, 16.8 Million Colors RGB Backlit Keys, Ultra Portable...
Khanada's Mouse Pad
Logitech G840 XL Cloth Gaming Mouse Pad
In Fortnite Khanada will dominate but a lot of people don't know his real name is Leon Khim. He was born October 15th, 2004 in the United states.  Kanada got his start by posting insane gameplay and clips on YouTube with the name THEMANNOTCHILD.  
He was one of the early ones to master building and editing in Fortnite before it was really a thing.  He was a bit timid back then but this faded as he gained in popularity.  He would constantly drop 20 bombs in Fortnite and it was amazing to watch as it was pure action with a bunch of crazy snipes shots sprinkled in.
Add a header to begin generating the table of contents
In summer 2019 he retired the name THEMANNOTCHILD and went by the name Khanada.  He also took a stronger stance and decided to focus on competitive and less time messing around in the game.  The grind for him really improved his already high level game play to a new level so much so it even caught the eye of an org named team NorCal.  
Team NorCal was known for their trick shots and really wanted Kanada to join which he did.  The leader of the org said he was dedicated and grinded daily.  He also mentioned Khanada was easily top 50 in the world and when he's on top 25.  At this point he was only 2 points away from qualifying for the World Cup.
NorCal was a small team back then but definitely helped Khanada gain traction and get even more well known at a faster pace.  The leadership in NorCal really saw something amazing in him.
Early on in Fortnite Kanada found Dakotaz in a game and was joking come here Dakotaz, not really knowing it was him but the skin was the one he used.  He then took him out and saw that it was actually Dakotaz and started screaming that he killed Dakotaz!  
In the prelims to the World Cup 2019 Khanada just W keyed everyone in the first 3 minutes getting 5 eliminations, by mid game he was already at 12.  At this time the end game was all about hiding inside bases but not today as Khanada was hunting them down one by one now at 20 elims.  He ended up clutching the qualifier with 29 eliminations in a solo tournament, just insane.
World Cup qualifier he had no problem but reaching New York would be a struggle.  During the last game of a qualifying session he was just about there.  He just needed to win this one last game and there was only one person left.  They jumped down and he tried to do a flick shot but wasn't fast enough.  That shot cost him a minimum of $50,000.   
He never qualified for the World Cup but kept his head down and kept grinding for what would come next.  He ended up getting 2nd in a trio event with Faze Dubs and Rogue Eclipsae.  He would then look for another trio team and land with Liquid Fiber and Tfue.  It didn't take long for them all to click and they ended up getting first place in the first event they played winning $60,000 which is $20,000 each in champion series week 5.
Kannada has now made it and with the Tfue exposure his steam blew up.  Tfue has always had an eye for talent and time and time again he shows it.  Later they would move to squads and add on Cloakzy.
Cash Cup King and Dreamhack
You will hear it often that Khanada is called the Cash Cup King because he has such a solid performance than anyone else.  He is so consistent and no one knows how he does it.  After a month of Cash Cups he had won 3 solo cash cups and other high up places as well.
Next up was Dreamhack time.  How would Khanada fair being on a LAN with everyone around him instead of being in his own room.  Well the first game is where he decided to show everyone he had no issues making the change crushing the lobby and taking home that victory royale.  On the day he was able to add $5,000 to his bank account coming in 12th place overall.  Very impressive as it was super competitive and his first LAN (playing all in one area together) event.
On Week 3 of Ninja Battles team Khanada, Bucke and Kreo end up taking down the win of $25,000.
Clix was trying to qualify for an event and asked Khanada to coach him and he said sure.  Unfortunately he ended up getting a lot of hate for this but it wasn't against the rules and Clix performed fine that game.  Clix kept speaking out saying he shouldn't get any hate for this as Clix himself asked him to coach him.  People mentioned at time Khanada can be toxic at times and this is how they can come after him.  Khanada just shook it off and didn't let it bother him.
After this he left team NorCal and became a free agent.  The worst best kept secret was then shown as Khanada was with the whole TSM team in a picture from Disney world even with the president of the Org.  A few weeks later it was announced TSM Khanada.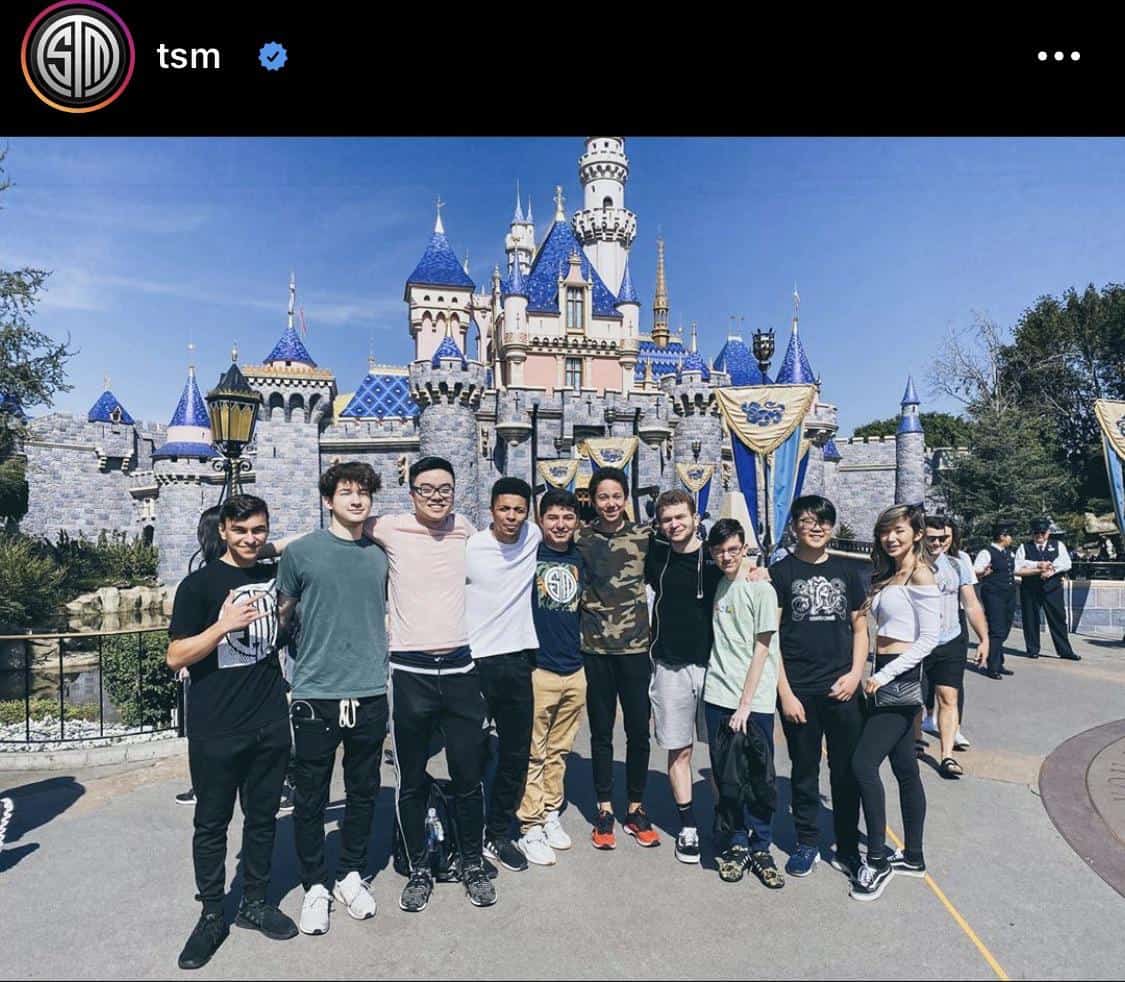 Why was Khanada banned on Twitch
Khanada was streaming and playing with another Fortnite player named Zayn.  Zayn was currently banned on Twitch and the rules state that you can never play with another player on Twitch if the other person was banned.  Khanada thought he was ok since he had him muted the whole time and he couldn't talk but Twitch would disagree handing down a 3 day ban to cover the upcoming weekend.
How old is Khanada
He was born on October 15, 2004 so as of this writing he is 15 about to be 16.  This age was figured out by his twitter when he mentioned his birthday feel on the same day as an update and he also mentioned he was 15.
What is Khanada real name
Khanada's real name is  Leon Khim.
What does Khanada look like
See for yourself.
Where does TSM Khanada live
I was unable to find information about where he is from but I do know he is in the United States on the East Coast.  If you find out any info on this please reply and I'll update this.
Who is Khanada Fortnite
For this you will want to start at the top of this article and start reading.  We will fill you in all about Khanada and his Fortnite career.
How did Khanada get his name
This is a tough one and I have searched.  There are not many people with this name. The only thing I could find was a Duran Duran song named Khanada.  It does talk about money being the game but I highly doubt that it inspired his name.  We will update this once we find out the true meaning that Leon changed his name from MANNOTCHILD to Khanada.
Why was Khanada banned on Twitch AGAIN
Khanada was streaming wagers and got a little to heated calling people names and saying he was going to "roll up" on them.  Twitch got a hold of this and said no on our platform and has indefinitely banned Khanada from Twitch.  Now Twitch has been known to remove these bans later on but if it does happen I have a feeling it will be a long time.
Khanada released from TSM
TSM has now parted ways with Khanada and most likely it was because of the actions we stated above.  No organization wants to have that kind of PR not to mention he can no longer stream on Twitch which is the platform organizations like TSM want to stay on.  Khanada has talked about streaming on other platforms and may move on to a new one but without a team for the time being.
Fortnite Khanada is just getting started and at the age he is at he has a long career in front of him.  As you have seen from this article a lot has already happened and so much more is to come.  We will make sure to keep you updated here.
More Gamers to check out!